«Back to news
COP21: A Global Declaration for a Sustainable Future
By Bryan Hadick, 4 August 2016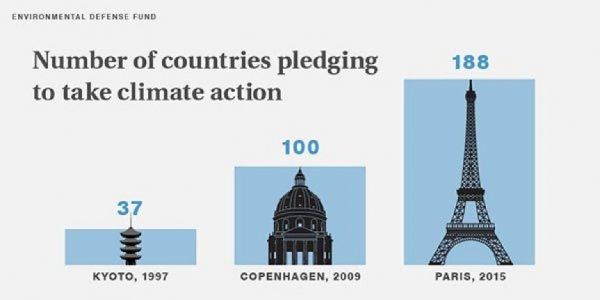 Consensus for Progress
 
In December 2015, leaders of more than 190 countries met in Paris for the United Nations Convention on Climate Change. The Agreement which was reached represents the most unified and ambitious global commitment to date, and charts a new course in the two-decades old discussion on climate. Fundamental to the Paris Agreement are an acknowledgement that climate change is underway, an awareness of a breaking point at which climate change would become irreparably damaging, and a sense of urgency to mitigate and reverse the effects of climate change. Paris was a call for all nations to act boldly, quickly, and collaboratively to address climate change, by aggressively reigning in and reducing quantities of human-contributed greenhouse-gases.

COP21 Key Initiatives:
+ Prevent global temperature increase from reaching 2 degrees Celsius above the pre-industrial
level; target a limit of 1.5 degrees Celsius.
+ Issue long-term emission goals: Immediately, to peak and begin reducing greenhouse gas
emissions; subsequently, to achieve "net greenhouse gas neutrality" (the amount of human production does not exceed the ability for environmental consumption) between 2050 and 2099.
+ Establish nationally-determined climate objectives along with a format for reporting and
review; resubmit plans every 5 years with more progressive goals.
+ Mobilize financing to assist developing countries in utilizing renewable energy and installing
resiliency systems.

The Unique Role of Cities
 
By 2050, 70% of the world's population will inhabit cities. Cities represent the economic and cultural nucleus of most states and countries. They are where goods are exchanged, decisions are made, and ideas are born. But they are also responsible for over 70% of greenhouse gas emissions and may be the most susceptible to the effects of climate change, such as coastal flooding.
While COP21 mainly articulated national agendas, it also focused a spotlight on the role of cities. Former NYC Mayor Michael Bloomberg, who now serves as the UN Secretary-General's Special Envoy for Cities and Climate Change as well as Board President of the C40 Cities Climate Leadership Group, said of the Paris Agreement, ""The agreement not only unites all nations in the battle against climate change, it also sends a clear signal to markets about the direction of government policy, which will help spur greater private sector investment in low-carbon technology."
Mayors of the world's leading cities are taking the initiative in setting aggressive goals in-line with COP21 objectives. 78% of cities have authority over the sectors that are the greatest sources of their greenhouse gas emissions. By codifying high-efficiency building construction, facilitating non-motorized vehicle use, influencing urban planning, investing in climate resiliency, and regulating waste disposal, cities can achieve significant results and play a crucial role in the global climate solution.
Ede Ijjasz-Vasquez, Senior Director for the World Bank's Social, Urban, Rural and Resilience Global Practice, said, "Cities are on the front lines of climate change...We're working to help countries increase renewable energy, decrease high-carbon sources, develop green transport systems, and build sustainable, livable cities for growing urban populations." The World Bank recently released its Climate Action Plan to assist developing countries meet their goals for COP21.
The US Response
 
Over 185 countries returned from Paris with homework to do - Nationally Determined Contributions (NDC's) are their pledges to start implementing the changes necessary to achieve the goals of COP21. The United States has committed to reduce its greenhouse gas emissions to be 26-28 percent below 2005 levels by 2025.
The White House issued a Press Release stating, "This Agreement sends a strong signal to the private sector that the global economy is moving towards clean energy, and that through innovation and ingenuity, we can achieve our climate objectives while creating new jobs, raising standards of living and lifting millions out of poverty."
In order for the US to meet its contribution, a significant mobilization is required. Emphasis must be rapidly shifted away from greenhouse gas-spewing fossil fuels and onto renewable clean energy resources (such as wind and solar). Investment is needed into research and development of better technologies for capturing, storing, and distributing the intermittent power production of such sources. In order to complement the production of clean energy, heightened efficiency standards for energy consumers such as buildings, appliances, industry, and transportation are also needed.

The 2016 Presidential Election
The Democratic platform calls climate change "an urgent threat and a defining challenge of our time." It acknowledges the danger posed to coastal cities and the effects that are already being experienced within the US. It expresses support for continuing upon President Obama's commitments in the Paris Agreement, and aims to "reduce greenhouse gas emissions more than 80 percent below 2005 levels by 2050." The Democratic platform supports implementing and extending pollution and efficiency standards for buildings, appliances, power, and transportation. It calls for developing a clean energy economy, protecting environmental quality, and investing in research.
In starkest possible contrast, the Republican platform states that they will "forbid the EPA to control carbon dioxide" and describes the many ways Republican leadership would intend to pursue fossil fuel exploitation. It further calls the UN Panel on Climate Change a "political mechanism, not an unbiased scientific institution." The Republican platform rejects the Paris Agreement, considers it non-binding to the US, and demands "an immediate halt to US funding" for its programs.

What's Next
 
In May 2016, over 700 world leaders met in Washington for the Climate Action 2016 Summit. As a follow-up to COP21, the Summit was a forum for leaders of business, government, academia, philanthropy, and investment to discuss the actions each sector could take to implement the objectives set forth in Paris. The key ideas presented at the Summit included:
+ Climate change impacts everyone and thus everyone has a role in addressing it.
+ Climate action is an opportunity for economic growth and innovation.
+ Cities can lead the way in adopting climate-smart infrastructure and programs.
In December 2016, mayors of cities across the world will meet with hundreds of urban planning and sustainability leaders in Mexico City for the C40 Mayors Summit 2016. City-driven climate actions will be highlighted, with specific focus on building energy efficiency, low carbon transport, green growth, and climate resilience.
COP21 has already succeeded in establishing a global declaration of commitment to a low-carbon future. Reaching that point won't be possible without a well-orchestrated and collaborative effort, but we believe we're on the right track. As green building professionals, we're excited to take part in a movement that is creating opportunities, improving communities, and even helping save the world!