«Back to news
CSR + Sustainability = ESG
By Bryan Hadick, 9 February 2018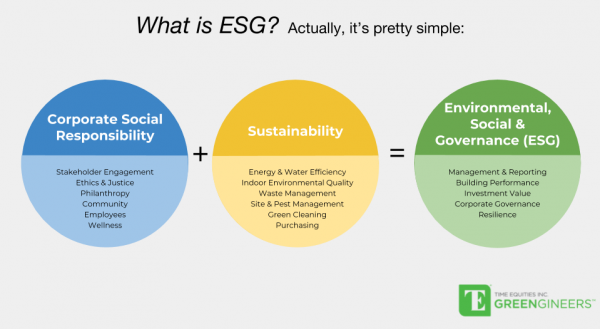 We are often asked, What is ESG? Why not just say sustainability?
The goals of sustainability in real estate have traditionally been to protect asset value, reduce operational costs, and minimize environmental harm. Corporate Social Responsibility (CSR) has introduced the consideration of ways in which an organization's policies and decision making impact stakeholders in topics such as fairness, equality and wellness. ESG is a framework for addressing these concerns comprehensively with an emphasis on achieving results that are robust, transparent, and quantifiable.
ESG refers to three central factors (Environmental, Social & Governance) in measuring the sustainability and ethical impact of an investment or company. As ESG criteria become more firmly embedded in investment risk assessment, the management and reporting of ESG criteria are becoming important and standardized factors in the ownership and operation of real estate.
  
Effective management of topics ranging from energy to ethics requires holistic and innovative strategies. TE Greengineers knows what ESG means to investors, owners and properties. We have helped Time Equities Inc. become a leader in ESG management and disclosure, and we can help you develop the right strategy for your portfolio.