«Back to news
TEI Earth Month 2017
By Bryan Hadick, 7 April 2017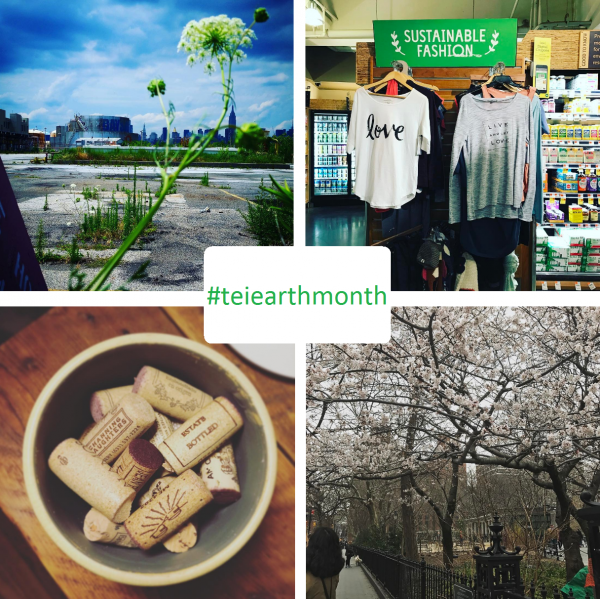 Since its inception in 1970, Earth Day has been an annual global demonstration of commitments to environmental protection. Its birth coincided with the founding of the US EPA, and marks the beginning of our modern ecological consciousness. Since 1970, this shift in values has led to cleaner water and air, protection of wildlife and habitats, advancements in public health, development of new technologies, growth of new industries, and reductions of greenhouse gas emissions. On Earth Day 2016, the landmark UN Paris Agreement was signed by the US, China, and 120 other nations.
Over the years, Earth Day has expanded into a month-long calendar full of events, celebrations, activism, service, and education. It is an opportunity for us to try something new, lend a hand, take part, give back, and help move forward. In this spirit, TE Greengineers developed a Calendar of Events helping Time Equities Inc. to commemorate Earth Month 2017.
For TEI's program, we included a mix of in-office events, nearby community events, seminars, volunteer opportunities, art exhibits, and park visits within the NYC area - But ways to get involved in Earth Month are guided only by your creativity, collaboration and sense of adventure! We hope you will be inspired to roll up your sleeves to join a local garden/habitat cleanup, or to visit a park you've been putting off for too long. Maybe check out how easy it is to compost, improve your recycling game, or hone in on sustainable seafood choices. Earth Day is as much about people as planet, so we hope you will take this chance to try something new and inspiring with your exercise, eating, reading, social media, or other daily activities. Talk to your kids, family, and friends. Call your representatives, support a cause, make art.
Above all, we hope that this Earth Month you will get involved and enjoy the satisfaction that comes with taking part in making a difference. We look forward to sharing it with you.