«Back to news
The Big Apple Takes a Big Bite: How Policy, Data & Design are Collaborating to Green NYC's Biggest Buildings
By Bryan Hadick, 20 October 2016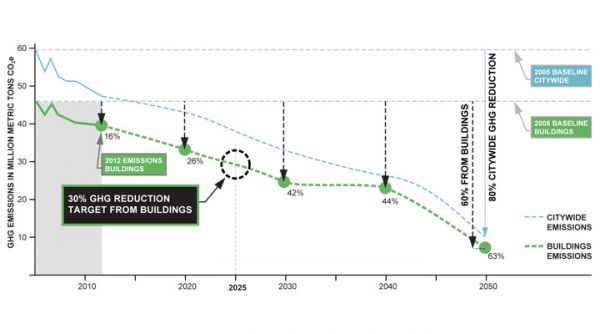 Image source: nyc.gov

Greener Greater Buildings
Although NYC comprises almost 1-million existing structures, almost half of the city's square-footage and total energy use is concentrated in only 2% of these properties, which are buildings of greater than 50,000 square feet. Improving the design, systems, and management of these biggest buildings could therefore yield the biggest single-source gains towards NYC's overall energy goals.
Back in 2009, Mayor Bloomberg unveiled NYC's 'Greener, Greater Buildings Plan' (GGBP) as part of the PlaNYC program for achieving sustainable growth in the city through 2030. With 75% of citywide greenhouse gas emissions coming from buildings, and at least 85% of current buildings expected to be operational through 2030, targeting energy efficiency in NYC's largest existing buildings is a crucial agenda. GGBP addressed this by rolling out a policy package including regulatory, financing, and training programs.
Benchmarking & Auditing
The most significant components of GGBP were stipulations for benchmarking and auditing the energy consumption of buildings over 50,000 square feet. NYC Local Law 84 provided for benchmarking, a standardized process by which building owners are required to document total annual energy and water usage with a US EPA online registry. NYC Local Law 87 addressed energy audits, mandating that buildings over 50,000 square feet undergo energy use analyses, as well as retro-commissioning of proper equipment through installation and maintenance. LL88 required sub-metering of tenant energy usage within large non-residential buildings.
The combined result of LL84, LL87 and LL88 is the generation of an analytic database that can be used to measure performance, monitor use patterns, identify trends/anomalies, prompt equipment upgrades, guide design and regulatory direction, and ensure compliance. The findings of annual benchmarking and energy audit reports can help the city better understand its energy usage in large buildings, and the EPA registry enables comparisons with other US cities. Data transparency helps policymakers, building owners, design professionals, and energy researchers to address the task of cutting greenhouse gas emissions with greater success, timeliness, and cost savings.
One City: Built to Last
In September 2014, Mayor de Blasio unveiled the next step in the greening of NYC. Following the UN's estimate that greenhouse emissions must be reduced to 80% below 2005 levels by 2050 (per the 2015 Paris Accord) to avoid the most threatening climate changes, NYC joined other cities in making the '80x50' pledge. Aside from being scientifically non-negotiable, the 80x50 goal is seen as ambitious while actionable - a call to arms in the effort to minimize human effects on global climate.
Building efficiency will have a leading role in achieving 80x50. In the first decade, a 35x25 plan aims to see the city's greenhouse gas output reduced 35% by 2025. This will be accomplished by strengthening green building and energy codes, financing energy upgrades in existing buildings, and supporting the market for renewable energy. Buildings account for nearly 75% of NYC's greenhouse gas emissions through the energy used to heat, cool, and power them, so aggressively targeting these sources is a big piece of the puzzle.
Going for Gold
In March 2016, NYC Local Laws 31 and 32 of 2016 upped the performance expectations for city-owned (publicly-funded) buildings, requiring most new construction and larger renovations to achieve LEED v4 Gold rating and to cut energy use to 50% of the 'energy use intensity baseline' - which is the median current energy use for similar buildings as established through LL84 benchmarking data. The long-term goal is to achieve net-zero standards for public buildings by 2030. Feasibility studies for the use of renewable energy sources generated on-site will be required on some projects.
5% of NYC's real estate is city-owned (including schools, hospitals, offices, residences, and mixed use buildings), and the NYC Dept of Design & Construction oversees billions of dollars in development projects. NYC believes that pushing the envelope in municipal projects will set a high bar and blaze the trail for the private sector. Data gathered from the first wave of public projects under the new rules will help define subsequent regulatory and design strategies for private buildings.
Even-Greener, Even-Greater Buildings
On 13 October 2016, NYC's City Council voted to extend GGBP to include mid-sized buildings of over 25,000 square feet. Lowering the threshold brings another 10,000 properties into the benchmarking and sub-metering picture and adds approximately 350 million square feet to the 2.8 billion square feet already regulated. By itself, the expansion would represent the 7th greatest benchmarked city in the US; together, NYC's properties account for over 45% of the total area benchmarked nationwide.
Innovation by Integration
NYC has expressed a firm commitment to achieving the bold goals of 80x50, and to turning its biggest buildings into its biggest performers. The emerging integration of sound data metrics with innovative design and effective policy is enabling the city to take decisive, well-informed action to drastically reduce its greenhouse gas emissions toward a net-zero goal. As energy databasing helps policy makers and building professionals to better understand relationships in the built environment, it should also help project teams to more confidently set expectations, more efficiently direct efforts, and more successfully achieve results.